Markets
Intel (INTC) Targets 64-Bit Android Tablets to Boost Sales
Intel  Corporation (NASDAQ:INTC) INTC +2.44% is apparently trying to diversify its portfolio by strongly competing in the Android based Tablet and Smartphone market in 2014.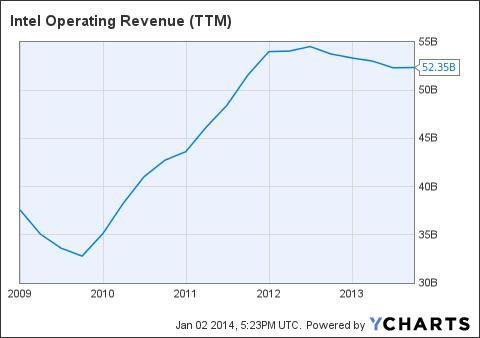 Back in September 2013, chip maker Intel announced its new hardware platform for tablets and fan-less (passive cooled) desktop computers. Now, they are planning to scale the Android market to the 64-Bit architecture in 2014. CNET reported yesterday that Kirk Skaugen, the general manager of the PC Client Group at Intel, commented on the plan saying, "we're going to scale Android to 64-bit. We're going to allow it to scale from Atom (processors) all the way to the high-end of the Core processor family."
Back in May 2013, IDC's Program Vice President of Worldwide Quarterly PC Trackers, Loren Loverde said, "Many users are realizing that everyday computing, such as accessing the Web, connecting to social media, sending emails, as well as using a variety of apps, doesn't require a lot of computing power or local storage. Instead, they are putting a premium on access from a variety of smaller devices with longer battery life, an instant-on function, and intuitive touch-centric interfaces." Since Intel's core revenues come from Desktops and Laptops, which has lower sales forecast this year compared to booming handheld computing devices, it makes a lot of sense to go after this segment.
Intel is not new to the world of Android based computing devices. Dell's Venue 8, which only costs $180 retail, has been a big success to show the competence of Intel's Atom processors when used with the Android mobile operating system. International Data Corporation (IDC) reported last year that Tablets will catch up to worldwide personal computer sales in 2014. In fact the growth segment, emerging markets, will also move towards using Tablets instead of PCs, where Intel makes most of its profits.
Intel has faced increased competition from mobile processor makers such as Qualcomm (NASDAQ:QCOM) QCOM +2.92%, Mediatek, Nvidia, Samsung, and Marvell (NASDAQ:MRVL) MRVL +0.27%. So far, Samsung and Qualcomm has announced that their new 64-bit processors will hit the market this year, but Intel may beat its competitors at their own game by releasing  a range of new tablets run by its "Bay Trail" based 64-bit processors. Digitimes reported that these low cost, within the range of US$99 to US$ 129 only, Android devices will run on Intel processors within the first quarter of 2014.
Intel's (NASDAQ:INTC) INTC +2.44% operating revenue soared since 2010 (trailing twelve months). However, the revenue growth has flattened during 2013 amid a paradigm shift in the computer market, towards portable handheld computing. It is a sound marketing policy from Intel to shift gears, and Krik Skaugen is right by saying "The strategy is very simple: we're going to support what the market desires." If Intel can launch its 64-bit chips for the Android market before Qualcomm and Samsung, that will surely give them a first mover advantage amid growing demand for high end tablets in 2014.