Markets
Intel (INTC) Is About to Reduce Amid Declining Sales in 2014
Last Friday, the global leader in PC chip making, Intel Corporation (NASDAQ:INTC) INTC +2.44%, said that their management is actively considering cutting about 5,000 jobs from its current workforce of 107,000 personnel. It will represent about 4.67 percent overall reduction in the workforce.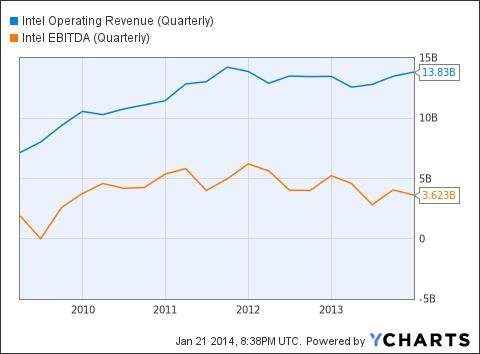 "Intel will be aligning resources to meet the needs of the business this year. This will include targeted workforce reduction in addition to realignment of resources," Intel said in a statement provided to CNET. Intel refused to call the process layoffs, as many of the existing employees may be redeployed. "While we expect that employment will come down by approximately 5 percent this year, we are not announcing a layoff. When we talk about reduction of the workforce there are a number of things that can happen. It could include redeployments, voluntary programs, retirements, and through attrition," says the statement from Intel.
The announcement came a day after Intel posted its earnings for the last quarter that missed industry analyst forecasts. The Chief Executive Officer (CEO) of Intel, Brian Krzanich, mentioned that the company is expecting no growth prospects in sales in the coming months of its processors due to a declining PC market worldwide amid the growing popularity of Smartphones and tablets among consumers, which do not use Intel build processors. "Enterprise…fell short of our expectations for the fourth quarter and the year as we overestimated the rate of recovery among corporate buyers," said Mr. Krzanich during the earnings conference call.
Intel did particularly well in sales related to data center and cloud-related products. However, its overall enterprise sales came out to be weaker than expected. To meet the demands of a changing market, Intel will be shifting more resources behind its line of chips for tablets, such as the Atom line, and said its objectives for 2014 included selling 40 million tablet chips, almost a fourfold increase against 10 million during 2013.
During the fourth quarter of 2013, Intel's (NASDAQ:INTC) INTC +2.44% total revenue went up compared to the previous quarter. However, its EBITDA, that measure earnings before interest, taxes, depreciation, and amortization; went down. The chip maker has been struggling to maintain earning levels since the first quarter of 2012 amid the growing trend of tablet and large screen Smartphones that mostly use ARM processor architecture instead of Intel's x86.