Politics
Hungry, Homeless Children Surge Over Southern Border in Record Numbers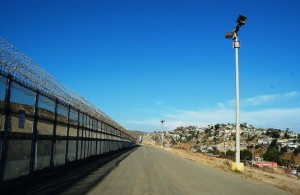 In the past six months, a record 47,017 unaccompanied children have been apprehended at the southwest United States border. Most of these youngsters, whose average age ranges from 13 to 17, have come to the U.S. from Central America and are generally travelling alone. Many of the apprehended children say they are hoping to re-unite with family who came to the U.S. earlier and expect to be welcomed with open arms in America.
This 92% increase over the same time period last year is likely the consequence of the President's announcement last year that his administration was relaxing the deportation laws with regard to minors, making it possible for families with children to stay in the United States indefinitely. Whether the consequences are intended or unintended remains the subject of debate.
The White House, however, claims that the migration is because of the criminal atmosphere in the childrens' own countries.Director of the White House Domestic Policy Council, Cecilia Muñoz, told reporters in a conference call on Monday, "We have heard sort of rumors and reports, or suggestions, that the increase may be in response to the perception that children would be allowed to stay or that immigration reform would in some way benefit these children,"
Muñoz went on to defend the White House's relaxed deportation policy, "It seems to be quite clear that what is driving this is what's happening in their home countries."
Meanwhile, the children are posing an almost insurmountable challenge to federal agencies that are tasked with their care. The Obama administration has ordered federal emergency authorities, including FEMA, to coordinate a multiagency response to the relief effort, and officials have opened emergency shelters on military bases in Oklahoma and Texas to house as many as 1,800 youths.
On Friday, the government announced that it will make grant monies available, to the tune of $2 million, in order to provide legal counsel for minors facing deportation. A Federally-funded public defender system for unaccompanied minors facing deportation has long been on the wish list of immigration reform advocates. The rising flood of young people entering this country from Central America has made such a program critical.
"We're taking a historic step to strengthen our justice system and protect the rights of the most vulnerable members of society," Attorney General Eric Holder said in a statement. "How we treat those in need, particularly young people who must appear in immigration proceedings — many of whom are fleeing violence, persecution, abuse or trafficking — goes to the core of who we are as a nation."
Legalists like Fox News' Senior Judicial Analyst, Judge Andrew Napolitano, see the predicted illegal influx of children, expected to reach 150,000 this year alone, as the result of a rogue federal administration bent upon revving up the Democrat base ahead of the 2014 mid-term elections.
Meanwhile, during an interview with MegynKelly, host of Fox's Kelley File, documentary filmmaker Dennis Michael Lynch asserted that entire villages in Central America are emptying out as residents flee to the United States where they believe they will be welcomed.
In the interim, the taxpayers will be providing shelter for the orphaned children, as well as feeding, clothing, educating and providing medical care for the 'refugees.' The cost for such services is expected to exceed $2 billion. Unsettlingly, U.S. Border agents believe they apprehend only a fraction of the total number of illegals crossing the border – so literally thousands of homeless, hungry youngsters are afoot in southwestern states.