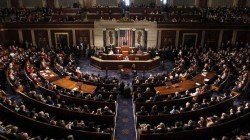 The House of Representatives has passed a bill that aims to provide a temporary fix for the federal highway and transit system. The bill is a multi billion dollar patch for a deeply flawed and financially unstable system.
The bill passed by a 367 to 55 vote margin, which displays a rare moment of bipartisan cooperation in the House. A similar bill is waiting to be brought to a vote in the Senate, although it will certainly face much stronger opposition there.
"The bill cobbles together $10.8 billion by using pension tax changes, custom fees and money from a fund to repair leaking underground fuel storage tanks to keep the federal Highway Trust Fund, which pays for transportation programs nationwide, solvent through May 2015," reports the Washington Examiner.
Without this bill being passed, the Highway Trust Fund will run out of money by the first week of August.
Hundreds of thousands of jobs would also be put in jeopardy without congressional action. The issue is so important that it blurs the lines between Republicans and Democrats.
Yesterday, the White House endorsed the GOP bill regarding the highway fund.
"The legislation would provide for continuity of funding for the Highway Trust Fund during the height of the summer construction season and keep Americans at work repairing the nation's crumbling roads, bridges, and transit systems," said the White House in a statement on Monday.
This approval of the GOP bill came with the demand that congress passes a long-term solution in the near future.
"This legislation only provides a short-term fix to the Highway Trust Fund. It does not address the continued need to pass a long-term authorization bill that creates jobs and provides certainty for cities, states and businesses," continued the statement from the White House.
The White House sees the GOP sponsored bill that just passed the House as an acceptable stopgap piece of legislation. Perhaps the bipartisan support it received, in the House in conjunction with Obama's approval of the measure, will soften opposition in the Senate.
Republicans assert that the president should continue putting pressure on his own party in order to help push through the bill in the Senate, and only then will it be time to begin the process of drafting a more comprehensive fix for the Highway Trust Fund's massive monetary issues.