Politics
Harry Reid in favor of Obamacare tweaks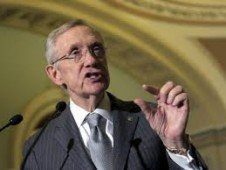 Senate Majority Leader Harry Reid took the time on Tuesday to admit that he is open to making some minor tweaks to the president's signature piece of legislation, the Affordable Care Act.
"Anything we can do to let people know that we're not deaf to issues that may come up. This is a big bill. And if we had working partners, as we used to have, with Republicans, there are other things we could do to work on this bill," Reid said on Tuesday.
Reid is showing a newly inspired willingness to change certain aspects of Obamacare in the wake of the administration hitting its seven million enrollee goal.
"The Affordable Care Act, whether my Republican friends want to admit it or not, is working," continued Reid.
It is currently unknown how hitting a registration deadline through the use of dubious counting means that the law is "working." Premiums have skyrocketed under the president's healthcare overhaul, and many of those being counted in the seven million number are people who have received coverage through Medicare expansions.
It is unlikely though that Reid will be willing to compromise on any fix that would actually help the millions of people who are worse off thanks to Obamacare, as the Majority Leader engages in exactly the same no-compromise strategy that he accuses his opponents of using.
Most of the fixes that Reid will be willing to work toward will be small in scope, as the Nevada Senator wants to keep the integrity of the original healthcare overhaul plan intact.
The Washington Examiner reports "But Reid acknowledged the need to make changes. The Senate tucked a provision inside Medicare payment legislation that repealed Obamacare's cap on deductibles for small group health plans. Lawmakers called for the change in the requirement because it would have prevented small group health plans from purchasing most bronze-level plans because they exceeded the deductible cap."
"Even the chamber of Commerce and the Restaurant Association endorsed that change," Reid said.
Many vulnerable incumbent Democrats across the country have proposed similar changes to Obamacare, including Sens. Mary Landrieu, Mark Begich, and Mark Warner. These are all politicians who are running in competitive re-election races.
Other Senators such as Joe Manchin and Angus King have proposed changes that would alter other parts of the law, such as ending the employer mandate for companies with fewer than 100 employees.
These moves are an attempt by Democrats to save face with the public and hold onto the Senate, as the president's massive healthcare overhaul is wildly unpopular with the American public.