Politics
Hagel contradicts White House narrative on Bergdahl swap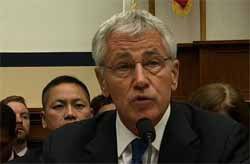 In testimony before Congress, Secretary of Defense Chuck Hagel flatly denied claims by the White House that he was the one who made the final decision on trading Sgt. Bowe Bergdahl for five Taliban leaders.
President Obama created a firestorm after it was revealed that he released five Taliban leaders who have been compared to generals, in order to free an army soldier accused of desertion by his fellow soldiers.
Following the release, President Obama has been defending the prisoner swap, saying it was worth it to bring Bergdahl home. The announcement of Bergdahl's release helped take media scrutiny off of the VA scandal for a time, causing some to speculate that the administration purposely arranged the deal for that purpose.
The president also violated a law that he signed requiring him to notify Congress before conducting any type of exchange. Obama said concerns over Bergdahl's health prevented him from notifying congress due to a lack of time. However, the administration was able to notify approximately 90 staff members of the deal prior to notifying congress after the fact.
As the president faced criticism and condemnation over the trade from even members of his own party, the president continued to defend the trade.
Then, in an attempt to do damage control, last weekend the White House said Hagel was the one who made the final decision.
Rep. Buck McKeon (R-CA) told ABC News that during a classified briefing, the White House "indicated (it was) Secretary Hagel (who made the final call)."
McKeon was incredulous at the new claim, since the president had been taking credit for the release until the pressure started to intensify.
"It was the president of the United States that came out (in the Rose Garden) with the Bergdahls and took all the credit and now that there's been a little pushback he's moving away from it and it's Secretary Hagel?" McKeon said.
Other members of Congress backed McKeon's claim, saying that was their impressions as well.
However, when Hagel testified before Congress, he denied the White House claim that he was the final decision maker.
During his opening statement he immediately distanced himself from the White house claim, saying it was actually the president who had the final say so.
"Mr. Chairman, I want to be clear on one fundamental point – I would never sign off on any decision that I did not feel was in the best interests of this country. Nor would the president of the United States, who made the final decision with the full support of his national security team."