Politics
Gun control outsiders attempt to influence Colorado recall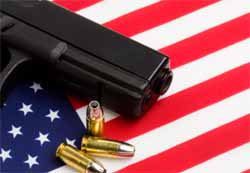 In a classic case of projection, outside groups in favor of gun control are attempting to sway a first ever recall election in Colorado while criticizing grassroots citizens of being in the pay of big money.
During the last legislative session, Democrats who captured both houses of the state legislature use their newfound power to ram through a series of radical bills favoring many liberal pet causes. Among these were a series of gun control bills that were so poorly written they are now the target of a lawsuit by the state's sheriffs who claim the bills are not only unconstitutional, they are unenforceable as well.
Feeling outrage over being ignored by their elected representatives, voters in Pueblo and Colorado Springs successfully garnered enough signatures on a petition to recall Senate President John Morse and Sen. Angela Giron.
The recall election has the potential to have ramifications far beyond the Colorado cities. While the bills were being debated Vice President Joe Biden made a trip to the state and assured Democrats that if they passed the bill Obama would ensure they would have help during their next election cycle and that the president wanted Colorado's legislation to be used as a model for other states to follow.
However, if voters were able to successfully recall the two officials it would send a strong and frightening message to other politicians who might feel similarly inclined to go after the Second Amendment.
Talk show host Laura Ingraham said voters have an opportunity to send a powerful wake-up call to elected officials around the country.
"If Democrats see that their own perches of power are jeopardized because they supported this kind of nonsense guess what? That will send a message to the other Democrats across this country and that's why this is important that the people of Colorado did this."
Gun control advocates appear to agree with Ingraham's concerns as outside groups have poured hundreds of thousands of dollars in an attempt to thwart the will of the people.
New York City Mayor Michael Bloomberg has personally donated $350,000 to Taxpayers for Responsible Government, an "issue committee" helping the legislators retain their seats which was formed by Julie Wells, a Democratic fundraiser from Kentucky. Los Angeles billionaire Eli Broad contributed $250,000 to Wells' organization, which then gave $420,000 to the two defense committees.
The Washington D.C. based Sixteen Thirty Fund has given $35,000 to help Giron fight the recall while Citizens for Integrity and Mainstream Colorado, both Denver based organizations donated $20,000 and $15,000 respectively. Additionally, the American Federation of State, Federal and Municipal Employees union, based in Washington D.C. has contributed $3,500.
Ryan Call, chairman of the Colorado GOP told Ingraham the recall is a vital part of electoral process.
"The important aspect is recognizing the consent of the governed is really a necessary component to our Republican form of government and that is precisely what has motivated these recall elections in Colorado."