Technology
Google looking to buy minority stake in Virgin Galactic for $30 million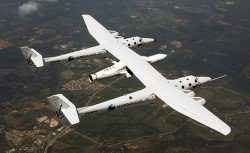 Google is looking to buy a minority stake in Virgin Galactic, the space tourism venture started by Sir Richard Branson. The minority stake will give Google 1.5 percent of the venture and will cost the company $30 million, with additional partnerships for Google in the future.
The deal has been in negotiations for months, according to sources close to the deal. This would be Google's third move in 2014 in terms of space, as it recently acquired two startups, namely Titan Aerospace and SkyBox Imaging to help with the efforts.
Technically this is a solid foundation Google has bought into, as Titan Aerospace develops solar panels for satellites making them self-reliant, SkyBox Imaging actually makes the small satellites for low orbit, and Virgin Galactic will send the satellite from the ground to orbit.
Before Google's acquisition of SkyBox Imaging for $500 million, the startup was working with Virgin Galactic on a deal to send its satellites up into orbit. This might be the reason Google chose to invest in Virgin Galactic rather than Space X or any other commercial space company.
Virgin Galactic could be a valuable asset in the near future if Google wants to look at space tourism. The venture wants to take people to space for $200,000, and a few celebrities have already paid their deposit to go up into space, including the owner Richard Branson.
The LauncherOne is the big reason for Google and SkyBox Imaging working with Virgin Galactic, as this spacecraft will be capable of sending satellites up to space.
Google's end goal for this satellite project is to bring the next four billion people in the unconnected world online. The cheap Internet available from satellites and Project Loon will work well in places where Internet is restricted to the few who can afford the luxury.
Facebook is also in the running to try and get satellites up into space, but Google appears to be throwing more money into this project.