Markets
General Motor Found Chevrolet Volt Owners Prefer Driving on Electricity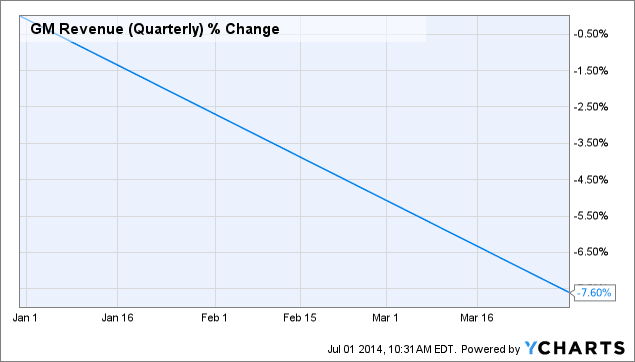 A recent report from General Motors Company (NYSE:GM) GM +0.90% showed that 63 percent of its Chevrolet Volt milage was traveled using electricity from battery power. The Chevrolet Volt is a plug-in hybrid electric vehicle. The report also shows that the average Volt owner drives 970 miles before filling up. The report provided GM with some key insight into its future hybrid line-up. It now knows that Volt owners have saved enough gasoline to run Washington, D.C. for two and a half months.
The most revealing aspect of the report is that 90 percent of all trips end up consuming only battery power without relying on traditional fuel. The Chevrolet Volt's official millage per charge states only 35 miles. However, the report's survey suggested that 15 percent of Volt owners consistently drove their cars on electric power for 50 miles per charge. The majority of the time car owners utilizes their vehicles for running errands in short distances. The 35-40 mile range per charge gives them ample legs to drive to pick up groceries, going out to eat, and visiting friends and family.
Currently, GM's Volt model competes against Ford's Fusion Hybrid, Toyota's popular Prius Four, the Camry Hybrid, Honda's Civic Hybrid, Kia's Optima Hybrid, and Lexus's CT200h. Among its competitors, the Volt is the most expensive model. The Chevrolet Volt 2014 model's base price is at $39,995.
In recent months, thousands of Chevrolet Volts were recalled due the a glitch affecting its stability control system. Although only a handful of cars was affected, the company had to send a formal recall letter to every Volt owners to get their cars repaired.
Year to date, General Motors Company's (NYSE:GM) GM +0.90% revenue dropped by 7.6 percent to $37.1 billion. Last year, a total of 23,461 Chevrolet Volt models was sold. However, under competition from other vehicle makers, Chevrolet has already cut the car's price by $5,000 in order to boost demand and sales. Based on the previous year's base price, Chevrolet Volt contributed to only 2.53 percent of General Motors' $37.1 billion top line (revenue). However, sales of the electric powered vehicles are estimated to grow, and its Volt line of hybrid cars has the potential to generate more sales in coming years.