Investment
G7 Talks Economy and International Trade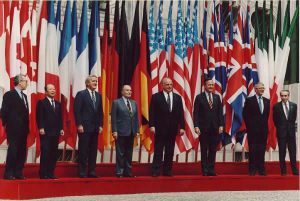 The Heads of State and the Group of Seven (G7), otherwise known as the seven most industrialized countries on the planet, finished up their second and final day of the summit in Brussels, where the economy, international trade, energy, and climate change were some of the key points.
One of the main purposes between the U.S., France, UK, Italy, Germany, Canada, Japan, and the Commission was to strongly address the economy and international trade. In addition, they wanted ally to combat tax evasion and develop globally standardized tax information exchange systems.
As expected, one of the crucial issues was to encourage Russia to lay down their arms, for which security and energy dependence of some Western countries were also a topic. This is because they hugely rely on imports of gas and other fuels from Russia.
The president of the European Commission, Jose Manuel Barroso, urged Moscow and Kiev to "make the final effort" to reach a final agreement on the payments and price of gas, and also on behalf of the group said, "We agree that energy should not be used as a political weapon. The G7 should be firm and encourage Russia to lay down its weapons."
As to the damages of climate change, G7 leaders confirmed their commitment to limiting CO2 emissions to prevent further increase in global temperatures.
The U.S. Economy Has Dropped 1%
In announcing its second estimate on the performance of the economy in the first three months of the year, the government said that the decline was due to lower domestic consumption reported initially due to a larger trade deficit.
In the first evaluation, the Commerce Department announced an expansion of only 0.1 percent of the Gross Domestic Product (GDP), the lowest in the past two years.
Between January and March, exports of the United States fell 6.0 percent, in contrast to the increase of 9.5 percent during the fourth quarter of 2013, while imports grew 0.7 percent in the same period.
Experts added that non-residential investment fell 1.6 percent in the January-March this year, unlike the 5.7 percent increase they reported between October and December last year.