Investment
Foreclosures Slide to Lowest Level Since 2006, Only 10% of Borrowers Underwater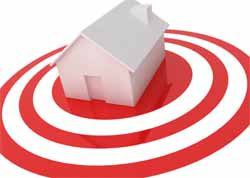 While economists and homeowners continue to worry about weak housing demand and recovery, there is one bright bit of news: the number of home loans on which lenders began the foreclosure process in March fell to the lowest level in seven-and-a-half years, according to a report released this week.
Banks began foreclosure on 88,000 homes in March, which is down over 27% from a year ago and far lower than the 316,000 in March 2009, according to new research from Black Knight Financial Services.
Black Knight also found that the percentage of mortgages that are delinquent is also falling, which means foreclosures should continue trending downward. About 2.1% of all mortgages were in some stage of foreclosure in March, which is the lowest level since 2008. Another 55% of all borrowers were at least 30 days behind on their loans but not in foreclosure, which is the lowest level since 2007. Both levels are still above pre-financial crisis levels but have fallen sharply in recent years.
Black Knight also found that 10% of borrowers are underwater, owing more than their home is worth. While this is high, this number was 30% four years ago. The percentage of underwater homeowners continues to fall as homes went through foreclosure and prices have started to rebound.
"Looking at current combined loan-to-value (CLTV), we see that while four years ago 34 percent of borrowers were in negative equity positions, today that number has dropped to just about 10% of active mortgage loans," said Kostya Gradushy, Black Knight's manager of Loan Data and Consumer Analytics.
The mortgage research company also found that over 50% of all loans in the foreclosure process have not made a payment in at least two years. Foreclosures take longer in judicial states, where banks must use the court system to proceed with a foreclosure. Mortgage providers have struggled in many states to provide necessary paperwork and meeting court requirements to complete a foreclosure. The average loan that completed foreclosure in March was delinquent for 955 days.
The company also examined home affordability, which is calculated as a ratio of mortgage payment to income, finding that affordability is better now than it was prior to the housing crisis. Nationally, the mortgage-to-income ratio is at 22%. In 2006, just four states were lower than this. In March, about two-thirds of the country was below this level. Indiana, Iowa, Missouri, and Michigan were the most affordable states while California and New York were the least affordable.