US
First MERS Case Reported in US, Still Not a Concern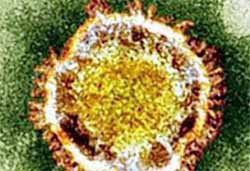 The Center for Disease Control confirmed an infection of Middle East Respiratory Syndrome Coronavirus infection this past weekend in Indiana, but experts say there is no cause for alarm.
"One case does not represent a reason for panic," says Dr. Wayne Marasco, an infectious disease specialist at the Dana-Farber Cancer Institute in Boston.
MERS is a virus that has been associated with the six Arabian Peninsula countries of Qatar, Saudi Arabia, the United Arab Emirates (UAE), Jordan, Oman, and Kuwait. Since first identified in 2012, it has infected more than 400 people and killed nearly 100. The virus has also spread to six other countries, including this first case in the United States.
MERS is similar to SARS in that it causes respiratory illness that can result in death. Individuals develop symptoms within 14 days of being exposed to it.
It is unclear what is causing the outbreak, but experts have been able to locate the same virus in bats and camels. Because of the prevalence of camels in the Arabian Peninsula, many people believe that camels are enabling its transmission.
Although the virus was first identified in 2012, Dr. Marasco explains why more information about the virus is not known:
"One of the biggest problems is that we haven't had any access to samples from Saudi Arabia, Jordan, or Qatar despite my efforts."
Even though the MERS virus is potentially fatal, medical professionals remind the public that transmission requires close contact. This fact is credited as the possible reason why the only U.S. case may not have been spread during travel from the affected region and through Europe.
The United States patient has since been treated and has recovered since identification. No one who has come in close contact with the patient has developed the virus at this time.
Dr. Anne Schuchat, assistant surgeon general and director of CDC's National Center for Immunizations and Respiratory Diseases, reminds Americans that the US outbreak is still not a reason to be alarmed:
"It is understandable that some may be concerned about this situation, but this first U.S. case of MERS-CoV infection represents a very low risk to the general public."