Business
Federal Reserve to Evaluate Stimulus Easing This Week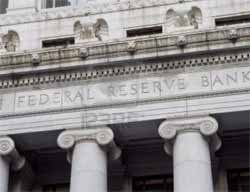 This week, Federal Reserve officials will meet to decide whether to continue easing its economic stimulus program. Most analysts expect that nothing will deter the Fed from tapering, including market volatility and a poor jobs report.
The two-day meeting ends Wednesday, and officials will most likely agree to another $10 billion taper to its monthly bond purchase program. The first reduction was announced in December and brings the monthly bond purchases down to $65 billion, with $35 billion in Treasury and $30 billion in mortgage-backed securities.
Previously, Federal Reserve Chairman Ben Bernanke said the Fed wanted to taper at a similar pace to its December move. This has led many to predict another equally sized reduction in the program this week.
"I think the Fed is desperate to extract itself from quantitative easing, and it will continue to scale back the program and end it this year," said Bernard Baumohl, chief global economist for the Economic Outlook Group.
The recent tumble in the stock market, a poor jobs report, and a slump in emergency markets will likely not affect tapering plans. While the stock market saw the 11th largest two-day decline in two years, most analysts do not feel this is big enough to and it would take a fairly large blow to put the Fed off course.
The central bank's stimulus program has been running for 16 months in an effort to improve the U.S. economy. In the past, it has boosted stocks and currencies in emerging markets and has benefited international investment while lowering interest rates domestically.
On Monday, U.S. bonds moved lower ahead of the Fed's policy meeting. Yields on benchmark 10-year Treasury notes, which are used to calculate mortgage rates and consumer loans, dropped to 2.743%. This follows a 6 basis point drop on Friday, as investors turned to "safe-haven" assets due to turmoil in emerging market currencies.
"When we started QE (quantitative easing) … there were many economies and emerging markets and other places that were very critical of our policy. Now that we're trying to stop it, they've been very critical of our policy," said Charles Plosser, president of the Philadelphia Fed, in a speech on January 14.
This week's Fed meeting will be the last led by Chairman Bernanke.
Bernanke has said the bond-buying program will most likely end completely by the end of 2014, provided the U.S. economy and labor market continue to improve.