Business
Federal Reserve Expected to Further Trim Bond Purchases in Today's Announcement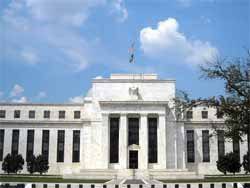 Traders on Wall Street are nervous ahead of this afternoon's announcement from the Federal Reserve. Policymakers are expected to cut another $10 billion from the Fed's monthly bond-purchasing program, even though the idea has unsettled global markets.
Last month, the Fed said it would cut its monthly purchases from $85 to $75 billion. It also said that if the economy continues improving, it would likely slow bond purchases at future meetings. The bond purchases are the Fed's stimulus plan and have helped to keep long-term interest rates low to improve consumer spending and economic growth.
Most economists predict a steady string of $10 billion monthly reductions will be announced at each Fed meeting through 2014, ending with a final $15 billion cut at the year's end.
The two-day Federal Reserve meeting ends today and will be the last presided over by Ben Bernanke, who is stepping down after 8 years as chairman and will be succeeded by Vice Chair Janet Yellen, who is expected to stick with Bernanke's policies. Yellen will become the first woman to lead the Federal Reserve.
U.S. stocks took a hit today as Wall Street weighs the impact of South Africa and Turkey's moves to increase interest rates, and as investors look ahead of the Fed's decision today.
Wall Street also expects the Fed to continue its stimulus reduction, despite less-than-predicted job growth and turbulence in developing markets.
Bernanke first mentioned a pullback in the Fed's monthly bond purchases mid-way through 2013, which triggered a small panic on Wall Street. The Fed then made an effort to assure investors that a reduction in bond purchases did not mean the Fed would begin raising the short-term rates it also controls.
While the S&P 500 index has dropped in the last few days, it's only 3.6% away from the record high it set on January 15.
Investors are worried that a pullback in bond buying will cause higher interest rates, which will weaken borrowing. Many also fear higher rates will cause bond investors to cash out of emerging markets and back into the U.S. for better returns. This fear has caused havoc in many developing countries.
Analysts forecast a brighter economy in 2014, in part because the government will be imposing less drag this year as the economy picks up steam on its own.