Business
Federal Reserve Cut Bond Purchases by $10 Million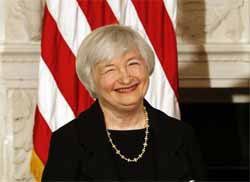 The Federal Reserve has chosen to continue scaling back its monthly bond-buying program, following Ben Bernanke's last meeting as chairman on Wednesday. The move was widely expected by economists. The Fed said it will further reduce its bond-buying stimulus to $65 billion in February, down from $75 billion. The decision was unanimous among Fed policymakers.
Since September 2012, the Fed had been buying $85 billion in bonds every month to stimulate the economy and hold interest rates down. It began scaling back the program this month after a December meeting.
Federal Reserve Chairman Ben Bernanke, who handed the reins over the Vice Chair Janet Yellen, adjourned his last policy-setting meeting without changes to the central bank's policy and its long-term plan to keep interest rates low.
In a statement, the Fed acknowledged that "economic activity picked up in recent quarters," which nods to the broader economic strength that led it to decide last month to begin the tapering process.
Fed officials were looking for improvement in the job market. As unemployment has dropped over the last year, they felt there was enough "cumulative progress" to warrant the scale-back.
As economists predicted, a selloff in emerging market stocks and currencies this week and disappointing job growth in the U.S. did not deter the Fed from its decision. In December, a weak jobs report found hiring slowed suddenly, with businesses adding just 74,000 jobs that month, down from an average of 205,000 per month in the prior three months.
Some economists were surprised that the Fed made no mention of turmoil in many emerging markets. South Africa's rand, Turkey's lira, Brazil's real, Indonesia's rupiah, and India's rupee all dropped dramatically as investors pulled away.
On Wednesday, policymakers stuck by their promise to keep rates low until well after the unemployment rate falls below 6.5%, particularly if inflation remains below the target of 2%. The unemployment rate currently stands at 6.7%.
This week marks the end of Benanke's reign as chairman of the central bank. Bernanke served eight years in the position and was appointed by President George W. Bush in 2006. His tenure coincided with the worst U.S. recession since the Great Depression as he built a $4 trillion balance sheet and kept interest rates near zero for more than 5 years.