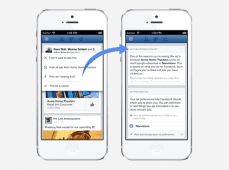 Facebook has announced a new feature to allow users to change their ad profile and filter out advertisements they do not want to see. Facebook and Google are both known for showing ads that users have no interest in simply because another family member used the computer or the user has no interests that match the advertising agencies interests.
Users will now be able to interact with ads and remove them if it does not reflect what they enjoy. It is an interesting move, because it opens the doors for more clearer analyzation of what ads are working and which aren't, giving Facebook more information to offer to advertisers.
This could backfire show how nobody wants ads, but it has been trialled on other services with good success. The main part of the change to ad profiles is it allows Facebook to offer more relevant advertisements, in turn offering those advertisements at a higher rate and garnering more money.
Advertisements are Facebook's biggest business at the moment, bringing home the bacon for the company. Games and other smaller solutions are available, but around 90 percent of all revenue comes from ads, the other 10 percent coming from in-app purchases, although this number is declining as more people move away from Facebook games.
The push for ad targeting is something Google and other big advertising firms are doing. Using contextual information is another new way to offer more relevant ads, allowing the user to get the ad at the perfect place and time, making them more likely to click it and check it out.
Facebook's new ad profiler will show the web of information which leads to the advertisement being featured on the user's news feed. This is something new, and informing users on what they clicked and searched might be a good way to gauge feedback and for Facebook to understand what users want better.
This is definitely a plus for the user, since they will be able to remove irrelevant advertisements that might not fit their tastes. Ads have obviously gotten better in the past few years, but there are still a few that people generally hate them and want off them their Facebook news feed whenever possible.