Politics
Eric Cantor stepping down as Majority Leader July 31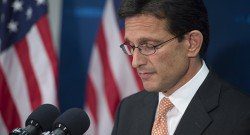 Eric Cantor notified GOP lawmakers on Wednesday that he will be stepping down from his post as House Majority Leader on July 31. Cantor will be holding onto his position until late July even though Speaker Boehner has set a June 19th date for the leadership election to choose who will replace Cantor.
"I will be stepping down as majority leader. It is with great humility that I do so, knowing the tremendous honor it has been to hold this position," said an emotional Cantor.
Cantor received five standing ovations at the press conference where he announced his decision to step down. Speaker Boehner was noticeably teary-eyed at the conference.
"Never more gracious, noble sentiment was expressed in that room than this," responded Rep. Trent Franks after the meeting.
"Success is not final, failure is not fatal, it is the courage to continue that counts," said Boehner of Cantor, quoting former British Prime Minister Winston Churchill.
Cantor's resignation comes after a devastating primary loss against Tea Party backed challenger, David Brat.
"There was a lot of applause for his service and his dedication for our country. It's a tough time for him and all of us know that we serve at the whim of those people who vote for us. There was a lot of emotion and concern and empathy for Eric," said Rep. Mark Meadows.
The Washington Examiner reports, "But Cantor's imminent departure also brought excitement among a faction of House conservative Republicans who have clashed with him over spending and immigration reform. They are hoping Rep. Jeb Hensarling, R-Texas, who is considered more conservative than Cantor, will run to replace him."
In light of Cantor's defeat, Speaker Boehner reassured lawmakers that he would retain his post and would not step down. Boehner said that he is committed to pushing the GOP agenda in Congress.
Boehner aides said that this agenda would not include immigration reform due to its divisive role in the Republican Party.
Speaker Boehner wants to focus on showing voters that his party is one that exists as a viable alternative to President Obama and the Democratic Party.
The battle to replace Cantor will prove to be one that is hard fought, as both the establishment and more conservative members of Congress will all have vastly different ideas for who should be his successor.