Markets
eBay is About to Introduce Pick Up Service in 650 Argos Stores
eBay Inc (NASDAQ:EBAY) EBAY +0.19% and Argos just announced an exciting partnership that will extend its current offer in which customers can pick up their online orders from the nearest Argos store. These two companies first started their click and collect partnership back in September 2013. The latest developments suggest that 650 Argos stores will participate in the program where customers can pick from 65,000 eBay sellers.
These types of click and collect offerings are not new, but this time around, eBay's massive 65,000 seller list will provide ample support to the argument that online retailers are increasingly interested in providing some sort of ground support. According to Engadget contributor Matt Brian, in response to eBay, Amazon (NASDAQ:AMZN) AMZN +0.60% has already started installing click and collect lockers in the United Kingdom.
eBay (NASDAQ:EBAY) EBAY +0.19%'s revenue has fallen sharply to $4.26 billion since the start of the year, representing a 5.92 percent year to date decline. However, eBay's revenue has always slowed down during the start of the year, as evident in its revenue history for the last several years. However, the market has always discounted this seasonality. So far in 2014, the situation seems to be different. eBay's stock price is down 7.52 percent since the start of the year.
During July 2010 to December 2013, eBay's gross profit rose by 91.46 percent. In contrast, its core business delivered 108.5 percent growth in operating income.
That growth seems to be stalled at this moment. Year to date, eBay's operating income has gone down by 14.1 percent. The gross profit decline is a bit higher, but still a considerable decline of 5.52 percent that did not go well with investors.
eBay's current book value is $19.61 billion, and the company is now trading with a $64.30 billion market cap with a price to book value of 3.28. In contrast, similar companies in eBay's industry are trading at a much higher price to book value. For example, currently Amazon's (NASDAQ:AMZN) AMZN +0.60% P/B is at 14.86.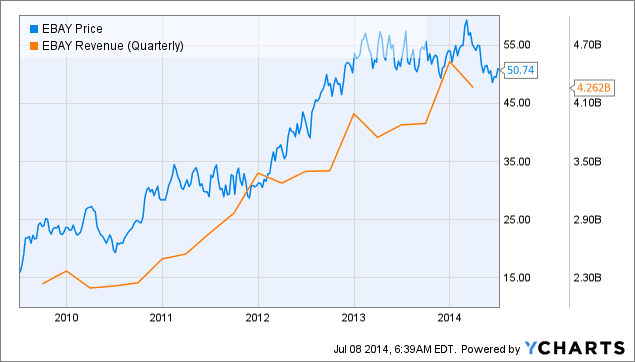 As eBay moves closer to customers by offering a click and collect service, its sales will pick up in coming quarters as the seasonal revenue model suggests from past data. The recent decline in revenue growth and margins suggests the growth of the company is in question. However, if we consider the long-term market position and future prospects of the company, the current market valuation seems to be a bargain for long term investors.