Markets
eBay Adds New Virtual Currency Category
eBay Inc (NASDAQ:EBAY) EBAY +0.19% just added a new category under "Coins & Paper Money" that now allows sales of "Virtual Currency." Previously, this category only allowed collectible coins and notes.  So far, users are showing ample enthusiasm and are listing various classified items under the three sections of Virtual Currency category, Mining Contracts, Miners, and Currency to sell popular cryptographic currencies and mining contracts such as Bitcoin and Dogecoin.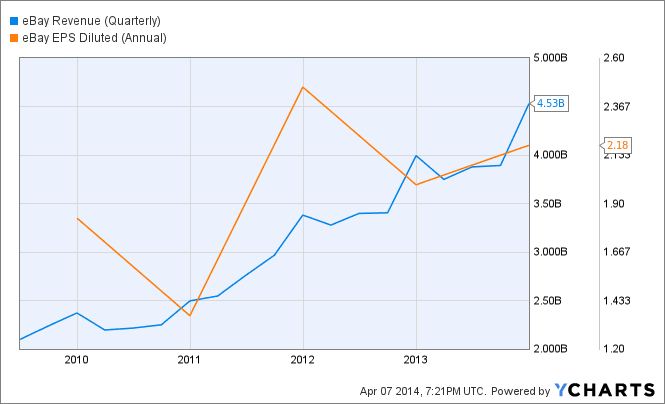 eBay has been the long standing leader in the consumer to consumer (C2C) marketplace in the United States and abroad for buying and selling physical goods and "some services." However, in 2013, eBay made a policy decision to allow sales of digital products. At first, it added a new category called "Digital Comics" to allow users list their comic books in digital format.
According to eBay help the digital sales policy restricted selling of any downloadable content and users had to list them under the "Everything Else > Information Products category using only the Classified Ad format." This could be a reason why most virtual currency sales listings are offering to "ship" the crypto currency codes via UPS/FedEx in a USB flash drive instead of offering to provide a downloadable link or sending them via e-mail attachment.
TechChrunch approached eBay to comment on how the new virtual currency category will affect users buying or selling cryptocurrency, and eBay officially directed them to their updated currency policy, saying all kind of virtual currency, including Bitcoin, must be listed in the "Virtual Currency Category in the Classified Ad format. In terms of mining gear and mining contracts, those can be listed as auction or Buy It Now."
Since eBay also owns the world's most popular online payment service, PayPal, it offers certain protection to both buyers and sellers if payments are made using PayPal. However, classified ad listings are not covered by those protections. Hence, if there is any fraud committed by a Bitcoin seller using the eBay classified ad listing, eBay will not act as a mediator to resolve any claims.
In the fourth quarter of a quarter of 2013, eBay's (NASDAQ: EBAY) EBAY +0.19% revenue increased by around 13%, and its non-GAAP earnings were increased by around 16%. The earnings per share of eBay (annual diluted) also started to climb up last year after declining during 2012.
eBay's business in developed economies seems to be saturated and there is hardly any growth potential. However, its subsidiary, PayPal has a lot of growth potential in the mobile niche, as Smartphones and Tablets are increasing in popularity. As of 2013, one in every six dollars spent on e-commerce is through PayPal.
There have been rumors that PayPal might come out with a crypto currency that will allow better privacy, security, and less volatility by integrating it with PayPal. Right now, PayPal allows virtual currencies to be integrated as long as those are used in games. If eBay decides to create a virtual currency, shifting its gear towards creating a virtual currency friendly policy could be an indication of such direction.