Investment
Dodd-Frank Turns 4, Remains Halfway Implemented and Controversial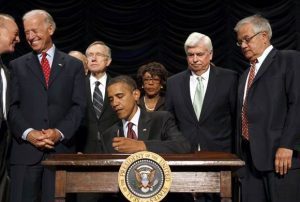 This week marks the fourth anniversary of the passage of the Dodd-Frank Wall Street Reform and Consumer Protection Act of 2010, a financial regulation law designed to prevent another major financial crisis and prevent the government from bailing out large institutions again in the future.
Among the reforms implemented by the act was the creation of the Consumer Financial Protection Bureau, which is tasked with protecting consumers from predatory financial products, and the Financial Stability Oversight Council, which checks risky behavior in the industry.
After four years, reviews of the effectiveness of Dodd-Frank are still mixed. Dodd-Frank was supposed to end the notion of financial institutions that are "too big to fail," but Republican and Democratic lawmakers agree it has failed in this aspect.
Lawmakers marked this anniversary with dueling reports. The Republican report, written by House Financial Services Committee Chairman Jeb Hensarling (R-TX) and Patrick McHenry (R-NC) denounced the law for failing to get rid of "too big to fail."
In a statement, McHenry said that "rather than institute market discipline and a clear rules-based regime, four years later, Dodd-Frank's failed policies have only worsened the risks within the financial system and recklessly handed financial regulators a blank check for taxpayer-funded bailouts."
Under the Dodd-Frank rules, the Federal Reserve now has the power to break up a bank if it cannot go bankruptcy or be wound down without harming the country's financial system, although republicans say this authority is a back door means of bailing them out.
On Monday, Democrats released a report discussing the act's successes. According to Democrats, the new Consumer Financial Protection Bureau has returned $4.6 billion to consumers, while reform has reduced risk added transparency to the financial industry and improved oversight.
A national poll conducted by Greenberg, Quinlan Rosner Research also reveals how Americans view the success of the act. Nearly 90% of consumers believe the government has not reined in Wall Street, while 64% of voters believe the market is rigged. 55% say they believe Wall Street and large banks harm consumers every day. This particular sentiment is shared by the majority of independents and Democrats and 40% of Republicans.
Dodd-Frank has still done little to address the underlying causes of the financial crisis. The Dodd-Frank Act was meant to be implemented over many years, but much of it remains unwritten. At the start of the month, law firm Davis Polk found that 45% of the rulemaking deadlines of the act have been missed.
Areas that are left unfinished include a fight over the implementation of the Volcker rule, which was meant to stop proprietary trading, but has been left with many holes, as well as the regulation of derivatives by excluding certain kinds of products from regulation. Attempts to regulate credit rating agencies have also stalled, as have discussions over funding for regulatory institutions like the Consumer Financial Protection Bureau and the SEC.