Investment
Current Mortgage Rates Continue Steady Climb to 4.37%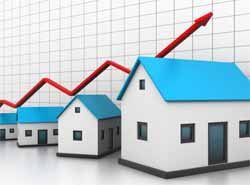 For the third consecutive week, average mortgage rates have inched higher, according to mortgage buyer Freddie Mac's weekly survey released today.
Rates have increased as new data shows a surprisingly strong number of new home sales in January, but average U.S. rates remain near historic lows.
According to Freddie Mac, the average rate for a 30-year mortgage rose to 4.37% with an average 0.7 point from 4.33% last week. The average rate for a 15-year loan increased to 3.39% with an average of 0.7 points from 3.35%.
The rate for a one-year adjustable rate mortgage (ARM) fell to 2.52% from 2.57%, while the rate for a five-year ARM fell to 3.05% from 3.08%.
On Wednesday, a report from the Commerce Department improved expectations that the spring buying season will be strong enough to improve the economy.
January saw a healthy rebound of new home sales, which rose at the highest rate in over five years. This followed a slowdown linked to severe weather and higher mortgage rates.
Sales of new homes rose 9.6% to a seasonally adjusted annual rate of 468,000, beating forecasts of 400,000 from economists. The Commerce Department also noted that permits for new homes were up in January from last year.
Sales of existing homes, which make up the majority of the market, fell last month to the lowest level in over a year, according to the National Association of Realtors. A Mortgage Bankers Association index found that applications for purchase loans fell 3.5% last week to the lowest level since 1995, while tight inventories, stringent lending standards, and cold temperatures have contributed to dropping sales.
Since hitting record lows almost a year ago, mortgage rates have gone up almost a full percentage point. This increase was driven by speculation that the Federal Reserve would scale back its monthly bond purchases, which have helped to keep long-term rates down. The Fed proceeded with this plan in January.
For the survey, Freddie Mac surveys lenders across the country each week. The average mortgage rate does not include additional fees or points borrowers must pay to get a lower rate.