Business
Consumer Spending Rebounded in January, Beat Forecast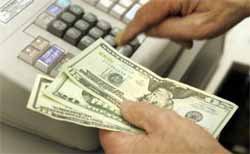 Consumers spent more in January than what was originally forecasted, reflecting the greatest services increase in more than 12 years as Americans began enrolling in the Obama administration's healthcare program. There was a 0.9% jump in spending on services, the largest climb since October 2011, much of which is attributed to higher heating costs across the country.
Household purchases, which accounts for 70% of the economy and includes mortgage payments, rose 0.4% after a meager 0.1% gain the month prior, according the Commerce Department report released today. A median forecast of economists polled by Bloomberg predicted a 0.1% increase.
Spending has also increased with incomes on the rise: incomes rose 0.3% in January. Income was reduced by the expiration of long-term unemployment benefits. Without this and other factors — including the beginning of coverage under the Affordable Care Act — income would have increased 0.2% in January, according to the government.
Spending is slightly above income gains, and the savings rate — or the amount of disposable income consumers are saving — remained unchanged at 4.3% in January, with actual savings falling to the lowest level since March.
Service spending was boosting at a $29 billion annual rate in January based on Medicaid benefits and enrollments in the Affordable Care Act exchanges, according to the Commerce Department. Improvement in household wealth and job growth — along with stock market and housing gains — will give consumers the means to spend more on services and goods and further improve the economy.
Home Depot, the largest home renovations chain in the U.S., and Lowe's, the second largest, expect gains to continue with demand spurred by the housing rebound.
"Some of the recent housing and jobs data has softened a little bit, but we still think the consumer is going to be there and 2014 is going to be a great year," said Robert Niblock, chief executive officer at Lowe's.
This was the greatest increase in consumer spending since September, and it came in spite of severe winter weather across much of the country that has dampened economic data over the last few months.
Last week, the Commerce Department reduced its estimate for fourth-quarter growth to 2.4% annually, down from 3.2%, in part due to a downward revision of consumer spending.