Business
Consumer Confidence Beats Forecasts, Hits Highest Level Since August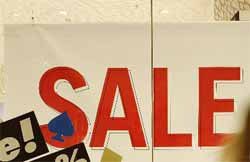 According to data released Tuesday, U.S. consumer confidence advanced January, topping forecasts. The Conference Board said its consumer confidence index rose to 80.7 this month from 77.5 in December, beating the 77.1 predicted in a MarketWatch economist poll.
The Conference Board's index is based on a monthly survey conducted by Nielsen, with a January 16 cutoff for preliminary results.
A component that measures the present situation increased to 79.1 from 75.3 while the expectations index rose to 81.9 from 79.
Consumers are taking notice of improvements in the economy, particularly the job market. The percentage of consumers who said jobs are "hard to get" (32.6%) has not been this low in more than five years. The difference between consumers who said jobs were hard to get and those who said jobs were plentiful reached the smallest level since 2008. The percentage who view business conditions as good is as its highest point in more than six years.
Larger employment gains have led to greater wage growth, helping to push sentiment and driving consumer purchases, which account for nearly 70% of the economy.
Increasing consumer confidence shows consumers expect the economy and their wages to improve moving into 2014. "All in all, confidence appears to be back on track and rising expectations suggest the economy may pick up some momentum in the months ahead," said Lynn Franco, director of economic indicators.
While consumers were optimistic about business and job conditions, the sentiment about the future was a bit muted. Consumers who expect better business conditions in the next six months was unchanged at 17.4%, but the percentage of those who believed things would get worse dropped from 13.9% to 12.1%.
Housing and stock market gains are also helping drive consumer confidence by adding an estimated $8 trillion in household wealth in 2013.
The gain in consumer confidence comes as recent data found that home prices in 20 US cities rose in November by 13.7%, the highest increase since early 2006. Data also found that retail sales jumped by the most in nearly a year. Dropping gas prices at the pump may also be aiding in the growing confidence.
As nearly two-thirds of the U.S. economy relies on consumer spending, the survey is an important indicator of future activity.