Politics
Colorado governor told stop "manipulating" primary voters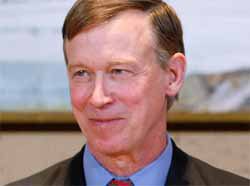 As the Colorado primary season heats up, the chairman of the Republican party is expressing alarm over a pair of recent Democratic ads that appear to be an attempt to manipulate the outcome of the race for governor of the state.
Colorado Republican Party chairman Ryan Call issued a challenge for Democratic Governor John Hickenlooper to condemn a pair of ads he says is attempting to swing the race in favor of former Congressman Tom Tancredo.
Protect Colorado Values, a Democrat-backed organization, released a pair of ads in the Denver area, with one each for Tancredo and former Rep. Bob Beauprez. In the Beauprez ad it recites a claim used in previous elections by accusing him of supporting increasing government spending while "the national debt ballooned $2 trillion." Beauprez is running as a conservative, as are all the other Republican candidates. The ad appears to be similar to an attempt made in previous elections as portraying Beauprez as a flip-flopper.
Protect Colorado Values is also running an ad that says Tancredo is "too conservative for Colorado" because he is "one of the country's strongest opponents of Obamacare." The organization is well aware that Obamacare is a hot button issue for residents in the state, many of whom have lost their insurance plans despite the president's promise to the contrary. Obamacare is especially a top issue for conservative Republicans.
Because of the tenor of the two ads, Call said the ads are a brazen attempt to manipulate voters into choosing Tancredo in the primary.
While there are two other candidates running besides Tancredo and Beauprez, the pair are considered the frontrunners for the nomination.
Ironically, while the chairman of the Colorado Republican party appears to be upset by the ads, one of the candidates appears perfectly content with them.
Tancredo told the Washington Times the only thing he takes issue with in the ad is the line that he is "too conservative for Colorado" for opposing Obamacare.
""With the exception of the last observation in that ad, everything else they said about me was accurate in terms of my opinion about Obamacare," Mr. Tancredo told the Times. "So I'm pretty amazed, excited. In fact, we could cut out that last little phrase and run it ourselves. But why should I? They're paying hundreds of thousands to do so."
Tancredo previously ran for governor in 2010 as an American Constitution party candidate. Despite getting into the race late, and running as a third party candidate, Tancredo garnered 36 percent of the vote, over three times the amount by Republican candidate Dan Maes.