Politics
China building artificial island in disputed waters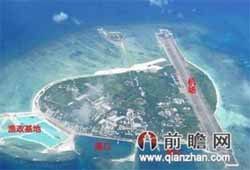 In a further show of strength in the waters around its borders, the Chinese government is planning to expand a large installation it has created into a full-blown artificial island that will be so large it will contain an air strip and sea port.
While artificial islands are nothing new, what is significant is the location chosen by the Chinese government. The expansion is taking place in an area known as the Fiery Cross Reef. The area has been claimed by the Chinese as well as Vietnam and the Philippines. However, if China goes ahead with its expansion of the facility, it is expected by experts to be seen as a further sign of Chinese expansionism and will undoubtedly further strain relations with its neighbors.
Jin Canrong, a professor of international relations in Beijing, told the South China Morning Post that the proposal submitted to the Chinese central government would make the island at least twice the size of the U.S. military base at Diego Garcia, which is on a remote coral atoll in the Indian Ocean and occupies an area of 44 kilometers. This would make the Chines island a formidable presence indeed.
According to the Post, a retired senior colonel in the People's Liberation Army says the landing strip would enable the government to have an excellent ability to easily establish an air defense zone around the South China Sea.
In recent years, China has been increasingly expanding its naval presence and projecting it into more of a deep water navy, which is a marked change from the historical tradition going back centuries.
China has recently established an air defense zone around another disputed area in the Pacific. The area involves islands in the East China Sea that have been claimed by both China and Japan.
In 2012, Japan purchased three of the disputed islands from a private business owner. Since that time, patrol ships and aircraft from both countries have been shadowing each other in the waters and skies around the islands. The frequent encounters have raised concerns of an accidental collision between ships or aircraft of the two countries which could lead to a broader clash between China and Japan.
Last November, tensions escalated in the region when the United States condemned the defense zone and defied Beijing by sending in two B-52 bombers to fly through the area.