Technology
Change in credit rules could lessen Tesla profits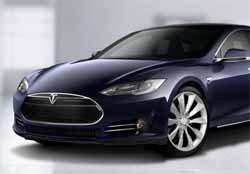 Tesla Motors could find their ability to earn money by using one of the key items that helped them earn a profit in the first quarter lifted if a proposed rule change by the California Air Resources Board goes into effect.
Currently the company is able to earn money by selling "zero emission credits" because of its ability to quickly swap out batteries. The California agency is considering eliminating what it calls the "fast refueling" rule that currently allows electric vehicles with quick swap batteries such as the Tesla to gain bonus credits under the CARB's regulations.
The zero emissions credits have been controversial since the idea first came out. In order to help offset global warming that some believe is called by human beings, companies are expected to reduce their carbon footprint which creates greenhouses gases. The Environmental Protection Agency has ruled that carbon dioxide, which among other things is produced by simply breathing, is a pollutant and subject to regulation.
Companies that do not reduce their carbon dioxide emissions sufficiently have the option of purchasing credits to offset their emissions. The credits are treated like any other commodity meaning they can be sold to someone else to offset their emissions and allow them to continue producing carbon dioxide.
With the cost to upgrade coal powered energy plants being prohibitive and not cost-effective unless the utility raises rates significantly, the sale of credits has become a profitable money making scheme.
Tesla's credits helped the company make a profit in the first quarter of this year because it was able to sell its credits to other automakers which do not produce "green" vehicles and are unable to meet the state's clean air regulations because of the nature of their fleets.
In the first quarter Tesla announced an $11.2 million credit which stands in contrast to other alternative energy companies that are posting losses. However, the primary reason for the credit resulted from the company's sale of $67.9 million worth of zero emission credits as well as "other regulatory credits" totaling $17.1 million.
While the credits have been a profitable venture for Tesla, if CARB were to eliminate the "fast refueling" rule the company would lose the income it receives from selling the credits and would mean the company would go from posting a profit to posting losses.
During a first quarter earnings call, Tesla CEO Elon Musk said the company was projecting its dependence on emissions credits for profitability would decrease during the year and by the fourth quarter would achieve a profit based on pure automotive sales like other companies.