Politics
Cantor defeat shows money cannot buy elections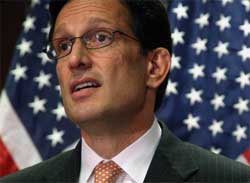 The House Majority Leader was defeated in a landslide despite vastly outspending his opponent, thus showing that despite warnings by Democrats of corporate spending, elections cannot by "bought" by simply spending more than the opposition.
Cantor is the number two Republican in the House of Representatives and was largely seen as the successor to current House Speaker John Boehner who was expected to step down next year. Cantor was running for an eighth term against economics professor David Brat, a man with little political experience under his belt.
During the election, Cantor clearly had the monetary advantage, spending over $5 million to defend his seat compared to $122,000 spend by Brat. Despite the lopsided spending advantage, Cantor was ultimately defeated by 56-44 percent in a landslide win for the grassroots.
Brat's victory could help derail attempts by Democrats to change the First Amendment by allowing the government to regulate how much money is spent on political campaigns. Democrats claim that large spending by corporations that is now permitted following a pair of Supreme Court decisions means that elections can be "bought" by those who spend the most money. However, Brat's victory shows that is not the case.
Cantor's defeat has been called in multiple media outlets a shock wave for the GOP which had mounted a determined assault against conservative tea party members who rode a wave in 2010 that gave Republicans control of the House. Instead the Republican establishment has been waging a war on tea party members and attempted to beat back challengers. This election cycle, the party has been largely successful, securing victories for incumbents such as South Carolina's Sen. Lindsey Graham and Senate Minority Leader Mitch McConnell.
In the run up to the election, polling showed Cantor with a large double digit lead over Brat. However, Brat continued to hit Cantor over his support for amnesty for illegal aliens. Cantor responded by saying that he was not for amnesty, however he has been working to help craft an immigration bill in the House.
One of the tipping points may have been the recent massive influx of children from Central America who have been flooding the border in recent days. Some have speculated that the large number of children, which is expected to exceed 40,000 this year, is the result of President Obama issuing an executive order granting children in the country a de facto amnesty. Once this is achieved, they can then petition to have their parents admitted under humanitarian grounds.
News reports indicate the large number of children is beginning to strain government resources.