Politics
California teacher tenure laws ruled unconstitutional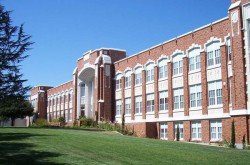 On Tuesday, a California Superior Court judge ruled that the state's teacher tenure laws were unconstitutional. This ruling deals a strong blow to the public sector unions that have fought against any significant change in the California education system.
Nine students sued that state, arguing that the state's tenure policies are detrimental to their education by making it nearly impossible for underperforming teachers to be fired.
"California law allows teachers to become eligible for tenure after less than two years on the job. Firing a teacher, on the other hand, could take as along as a decade and cost the state as much as $450,000- when it even tries. In practice, dismissals are rare," reports the Washington Examiner.
Teachers unions said that the tenure policies in California help to preserve academic freedom and attract talented educators into moving to the state.
The nine students argued that the tenure policies actually make teachers less concerned with being properly prepared for class and under motivated.
"Substantial evidence presented makes it clear to this court that the challenged statutes disproportionately affect poor and/or minority students," said Judge Rolf Treu in his ruling.
"There is also no dispute that there are a significant number of grossly ineffective teachers currently active in California classrooms," continued Treu.
Treu put the number of "ineffective" teachers in the state at between 2,750 and 8,250, saying that these teachers have a "direct, real, appreciable and negative impact" on the intellectual development of students.
"It will encourage reformers and families in other states to file similar suits to end similar laws on the books," said RiShawn Biddle, editor at Dropout Nation.
This decision will not immediately change the current educational climate in California, as the appeals process will need to play out before any substantive shift in teacher tenure policy will happen.
Dennis Van Roekel, President of the National Education Association, commented on the ruling, lamenting what he sees as a judicial action that will negatively impact the education system in California.
"Let's be clear: This lawsuit was never about helping students, but is yet another attempt by millionaires and corporate special interests to undermine the teaching profession and push their own ideological agenda on public schools and students while working to privatize public education," said Van Roekel in a conspiracy theory laden response to Judge Treu's ruling.
Educational reform is something that has been blockaded by teachers unions time and time again in California. However, Tuesday's ruling just may be the beginning of a new era of student-oriented educational reform in the state.