Technology
Blizzard Brings Hearthstone Card Game to iPad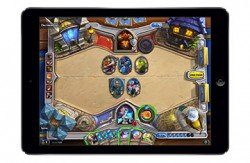 Blizzard has officially started rolling out Hearthstone: Heroes of Warcraft, its widely popular free-to-play digital card game, to the iPad in select regions around the world, including Canada, Australia, and New Zealand. The game was officially released for Windows PC and Mac back in March, but the game has been in Closed Beta since August 2013 and went into Open Beta in January.
Current Hearthstone players will be able to sync their account and their cards across all devices so they won't need to start over if they play on the iPad version of the game. Those who start playing on the iPad will also be able to do the same if they decide to transition to the PC or Mac version of the game.
The game will still need an internet connection to play and, according to the game's listing on the iTunes App Store, Hearthstone will be compatible on the iPad 2 or better and will require iOS 5.0 or later. The
listing also shows several supported languages, including Francais, Deutsch, Español, Italiano, Korean, Chinese, and a few other languages, so it pretty much confirms that Hearthstone for iPad will be coming to those countries/regions soon.
"Hearthstone's player base has already grown to more than 10 million registered accounts following the official Windows® and Mac® release, but we saw that a few people online were holding out for the iPad version," said Mike Morhaime, CEO and cofounder of Blizzard Entertainment. "Instead of calling those folks up individually, we figured we might as well let everyone know that the global iPad rollout for Hearthstone has begun, and pretty soon it'll be available everywhere. The game is a natural fit for tablets—we encourage everyone to check it out on their couch, in their backyard, in a coffee shop . . . or anywhere else they take their iPads."
According to Blizzard, Hearthstone for iPad will be rolling out to the rest of the world soon. For those without iPads, the game is also available globally on Windows PC and Mac. Blizzard has also said that
Hearthstone for Android, iPhone, and Windows tablet devices is currently in development, but with no official release date as of yet.