Business
Bird flu scare make KFC sales fall low in China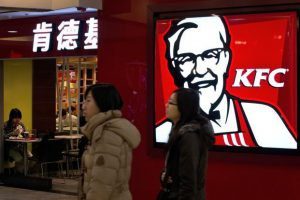 Yum Brands, which is the parent company of KFC, has reported a decline in sales in China recently. This is the outcome of concerns over another outbreak of bird flu in the country. This health scare is the result of a new strain of bird flu, which has already led to nine deaths in the country. It has also infected dozens of people.
In a public statement, Yum Brands representatives said that fear in China related to the avian flu is creating "significant, negative impact on KFC sales." No figures about the decline of sales were provided, though. The company will, however, provide additional updates and statistics on China division sales when it gets ready to declare its first-quarter earnings release on April 23.
This fall in sales is a matter of much concern for Yum Brands because China is a very important market for the giant restaurant company. More than half of the company's total revenues can be traced back to its many restaurants in China. This is why the company, based in the United States, has said that it will continue with its plan of educating people in China that chicken which has been cooked is safe to eat and cannot infect a person with the bird flu virus. "Historically in these situations, we have educated consumers that properly cooked chicken is perfectly safe to eat, and we will continue to do so," the company mentioned in a filing with the U.S. Securities and Exchange Commission.
The avian flu scare has made things worse for Yum Brands, which was already struggling to cope with and recover from negative publicity received in the last few weeks. There were allegations aired on Chinese news channels that suppliers who brought chicken to the company were giving the birds high and dangerous levels of antibiotics. The report about the antibiotics had already caused a significant drop in sales of chicken from KFC.
In the month of March, Yum Brands said sales at its restaurants in China that had been open and serving customers for at least a year fell 13 percent. This figure includes a 16 percent drop in sales seen by KFC restaurants alone. In the first two months of the year, the company saw sharp decline in sales, amounting to some 20 percent.
Yum has restaurants in some 5,300 location throughout China, out of which nearly 4,200 are KFCs. It is the largest operator of a food chain in China, and also owns brands like Pizza Hut and Taco Bell. Yum Brands, which is based in Louiseville, is also the world's largest restaurant company in terms of restaurants, and has 39,000 restaurants spread all over 125 countries and territories.