Investment
Bank of America Cuts 450 Mortgage Jobs Amid Waning Mortgage Demand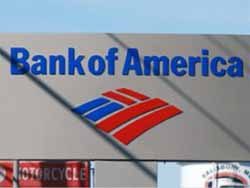 Bank of America, the second-largest lender in the United States, will cut 450 mortgage jobs from its West Coast offices after new home loans fell short of the bank's forecasts, Bloomberg reported.
Employees were informed of the eliminations on Wednesday. The workers, who processed new mortgages, included those in the Concord, California location. Another office in Pasadena will be closed completely. Other offices have also been closed this year, including a Las Vegas and St. Charles, Missouri office.
This is the fourth time this year that Bank of America has cut jobs amid waning demand for mortgages. Originations dropped 49% to $11.6 billion in the fourth quarter of 2013, Chief Financial Officer Bruce Thompson said in January. Wells Fargo & Co and JPMorgan Chase & Co have also trimmed jobs as refinancing demand disappears with rising interest rates.
"These notifications have been ongoing and reflect our previously announced efforts to reduce our size, resolve legacy issues, and simplify our company," said Dan Frahm, Bank of America spokesman. The bank will continue hiring in non-mortgage areas. Some employees affected by the cuts will find jobs in other parts of the bank.
Bank of America has previously cut jobs in August, October, and January. The cut in January involved multiple locations, including Charlotte, North Carolina. In the last three months of the year, the lender cut nearly 3,000 employees involved in making mortgages, and 3,000 in the legacy assets servicing department, which services delinquent mortgages primarily from the Countrywide acquisition in 2008. In the last cuts, Bank of America did not disclose how many workers lost jobs.
On Wednesday, the bank confirmed that job losses occurred, but gave no details.
Rising mortgage rates will likely cause many top lenders to increase lay-offs and repurposing of employees. After five straight weeks of dropping mortgage rates, this week marked a modest increase to 4.28% from 4.23% last week for the benchmark 30-year fixed-rate mortgage. While mortgage rates remain near historical lows, economists agree that rates will continue to rise through 2014, ultimately reaching at least 5.0% before the year ends.
Most economists also expect home sales and prices to continue their rise this year, albeit at a slower pace than last year. Both are forecast to rise nearly 5%, down from double-digit gains last year.