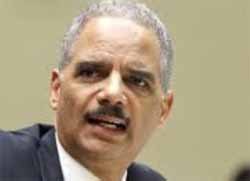 Attorney General Eric Holder will announce his resignation today. He will remain in his position until a successor is named, and he reportedly informed President Obama of his intentions nearly three weeks ago.
The news comes after close to six years as the head of a department marked by highs and lows. Under his leadship, the Justice Department saw great gains in criminal justice reform and civil rights enforcement.
"I hope I've done a good job," Holder said in an ABC News interview. "I've certainly tried to do as good a job as I can. There are sacrifices that I've had to make, that my family has had to make."
Several potential successor have been named by administration officials, including Deputy Attorney General James Cole, former White House counsel Kathryn Ruemmler, and Deval Patrick, the Democratic governor of Massachusetts.
While Holder has not said what he will do after he leaves his position, friends told NPR, which broke the news, that they would not be surprised if he returned to the Covington & Burling law firm, where he represented corporate clients.
Holder has served as the United State's top prosecutor and is one of only three remaining members of Obama's original cabinet. He has been pulled into controversy due to spats with Republican lawmakers. He was criticized for his decision to try suspects of terror plots in a New York City court and reversed his decision in 2011, sending a case to a military tribunal.
Holder also oversaw and negotiated the massive mortgage settlements of recent years, including settlements with Bank of America, Wells Fargo and Citigroup. Under his leadership, the Justice Department has recovered close to $37 billion from large banks over their role in selling bad mortgages leading up to the financial crisis. Last month, Holder negotiated a $16.65 million settlement with Bank of America, which is the largest settlement to date.
Holder hopes to be remembered for his civil rights record, including his decision to not defend a law defining marriage as between a man and a woman, suing Texas and North Carolina over voting restrictions that impacted the elderly and minorities and launching investigations of police abuse.
Holder has worked at the Justice Department for 26 years in nearly every level. He was appointed the U.S. Attorney for Washington, D.C. by President Clinton, serving until 1997 when he was appointed Deputy Attorney General.