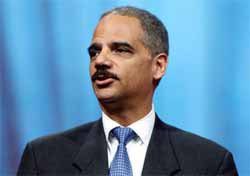 No financial institution is too large to indict and no bank executive is immune from criminal prosecution, Attorney General Eric Holder said in an interview set to be broadcast on MSNBC today.
In the interview, Holder pointed to JPMorgan Chase, which agreed to a civil settlement in November under which it will pay $13 billion to end government investigations into its sale of mortgage-backed securities.
The settlement with JPMorgan Chase was a record, and also Holder's first major win against a bank at the heart of the crisis in 2008. When the deal was announced, some felt it was too tough on the bank, while others said Holder did not go far enough and should have brought criminal charges.
The settlement with the largest bank in the country allowed prosecutors to pursue criminal charges if warranted, and that investigation continues.
"There are no institutions that are too big to indict," said Holder. "There are no individuals who are in such high level positions that they cannot be indicted, criminally investigated."
He added that the Justice Department has "brought charges against thousands of people over the course of these last four-and-a-half years."
Federal prosecutors have racked up many record-breaking fines against some of the largest banks in the country, but most financial executives have avoided jail time, and many companies have simply paid fines without admitting wrongdoing.
Without elaborating, Holder added that the Justice Department is still investigating "significant financial institutions," with focus not only on the banks but also on individuals.
In December, Holder told Reuters that the Justice Department plans to bring new civil mortgage fraud cases against several institutions early in this year by using the JPMorgan case as a template.
The MSNBC interview set to air today was wide-ranging, and Holder also discussed new voting rights legislation, Republican Voter ID laws, and efforts by the Obama administration to reform the War on Drugs.
Holder made his most extensive interviews to date on the renewal of the Voting Rights Act, crediting a bipartisan bill introduced last week for going "a long way" toward addressing the recent Supreme Court ruling against the law in June 2013. The bill offers a less stringent approach to the original Act passed in 1965, and puts ultimate judgment on the Attorney General rather than the original law.
Holder has certainly been busy, as yesterday he announced new progress on an unrelated front, saying the Obama administration will soon announce regulations designed to make it easier for banks to do business with legal marijuana vendors. Banks have refused to deal with marijuana-related businesses, as the drug is still illegal under federal law and the institutions fear they will be accused of violating money laundering laws.