Technology
Apple's iWatch will run on iOS8 with OLED display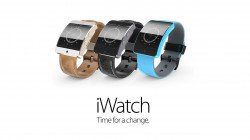 It looks like Apple has thwarted any negative press from its WWDC 2014 event. The amount of love from developers for opening up iOS8 and OS X Yosemite to third parties has made the press less jumpy on Apple's future, stopping people from questioning where the iPhone 6, iWatch, and MacBook Pro were at the event.
The amount of hints CEO Tim Cook has given in the past few months, alongside some of the new xCode showing multiple sizes for iOS devices, gives us good reasoning to believe the iWatch is still alive and being worked on at Apple's headquarters in Cupertino.
Several reports from China and Taiwan claim the new iWatch will be coming in October, a little later than previous reports suggest. This could be due to the yield rate issues we have been hearing various smartwatch manufacturers suffer from, along with two iPhone 6 devices getting launched a month beforehand.
We are not sure what aesthetic Apple is looking to achieve with the iWatch, whether it will look like a traditional watch or if the company will go for more of a fitness band look. Reports say Apple will be adding a curved OLED display. The curved feature might indicate a more fitness band look without the circular watch-face.
Battery and charging are two other features a lot of people are talking about. Apple is working hard on delivering new ways to charge the device since attaching a lighting port onto the iWatch wouldn't look very clean. Apple will most likely adopt NFC and add wireless charging alongside solar charging according to reports.
Apple will look to sell around 3 to 5 million units in the opening year, followed by triple the amount in 2015 if the watch turns out to be a success. It is interesting, as Apple normally enters markets when there is small interest brewing and the iWatch could be the turning point in wearables.