Technology
Apple Inc Rolls Out iOS 7.0.2 to Fix Lock-Screen Problems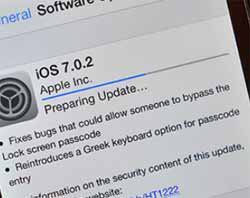 Apple Inc has just released the second update to its new mobile operating system, iOS 7. The company said its iOS 7.0.2 would fix a bug that allows hackers to possibly access Apple devices' lock screen even if there is a secret passcode. At the same time, it revives the option for Greek keyboard for entering passcode.
The iOS 7 hack was discovered last week, just a few days after the September 10 release of the operating system. It took advantage of the new Control Center that was introduced with iOS 7. There was a discovery from several users that anyone could possibly use the Control Center to skip the lock screen and access phone data.
Apple promptly promised to fix the problem. To get the latest update to the new operating system, go to Settings and choose General. From there, proceed to Software Update. Users could also opt to simply plug the device into any PC and do the update through iTunes.
iOS 7.0.1
Last week, Apple released the first update to iOS 7, iOS 7.0.1 just a couple of days after the system's launch. That was aimed at fixing problems pertaining to the fingerprint-scanning capabilities. Thus, it was mainly for iPhone 5S, which comes with the fingerprint-scanning sensor technology for personal verifications in transactions. Many users then clamored for a second update to fix other problems that came with iOS 7.
The iOS 7 release was the most successful so far from the company. Within less than a week after its launch, the new operating system is already running on more than half of iOS devices. It should also be noted that the new operating system was already installed in iPhone 5S and iPhone 5C, which were both released last September 20.
Excitement for iOS 7
According to several online data tracking firms, many users immediately downloaded iOS 7 upon its release. Thus, there was a major traffic jam across the Web in the entire day of September 18. But as it turned out, many users were somehow disappointed after discovering many changes to their devices brought about by the new software.
The popularity of iOS 7 was even used by pranksters to victimize unsuspecting users. A few days ago, a fake ad circulated advising iOS 7 users that their iPhones were made waterproof by the update. Many users easily believed the ad and tested the change only to find out that it was a hoax after their devices were ruined.