Investment
Apartment Rents Continue Rise as Income Remains Stagnant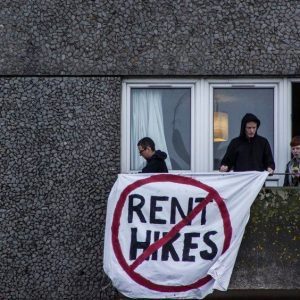 Apartment rents continue to rise with more rent hikes in the second quarter, which is making renting even more difficult for households that are struggling after four years of rent increases in the face of stagnant wages.
In the second quarter, the average monthly rent rose to $1,099, up 0.88% from the first quarter, according to new data released by real estate research company Reis, Inc. This marks the 18th consecutive quarter of rent increases. For year ending in June, rent was up 3.4%. A year ago, the average rent was $1,064 a month.
Effective rents, which are usually lower than asking rents, were up in all 79 major metropolitan areas tracked by the firm. Cities on the west coast continue to top the list of highest rent increases, both for the quarter and the year.
In some cities, including San Francisco, Seattle and San Jose, rent growth was higher than 6% in the past year. Even cities that do not normally experience fast rent growth, including Nashville and Charleston, have experienced price increases of up to 5% in the past twelve months.
There are several reasons for the rent increases, not the least of which is growing demand for rental units from young renters who are preferring to live in urban areas. Many potential homeowners have also been shut out of the market due to rising home prices and tighter lending standards. In the first quarter, the homeownership rate fell to 64.8%, which is the lowest in 19 years.
The demand for rental properties has become so severe that, nationwide, there are about 4.9 million households without affordable housing with 11.8 million low-income renters with only 6.9 million affordable rental properties.
Despite the increases, household income remains stagnant across the country. In 2012, median household income was $50,017, down from a peak of $55,627 in 2007 after adjusting for inflation, according to the U.S. Census Bureau.
The one bit of good news for renters is the fact that apartment vacancies, which measures demand, has fallen in about half of the 79 metro areas and the vacancy rate remained unchanged at 4.1% in the second quarter. The only time the vacancy rate has been lower was in 1999 and 2000 during the dot.com boom. This may mean that rent growth could eventually slow, with the market predicted to add 180,000 new multifamily units in 2014.
Multifamily construction has picked up, with multifamily housing starts up 25% in 2013, passing the 300,000 mark for the first time in six years, although multifamily construction is still down in half of the 100 largest metro areas of the country.
Reis predicts that effective rents will still increase around 3.5% this year, or the largest gain since 2007.