US
Apartment property management gun ban overturned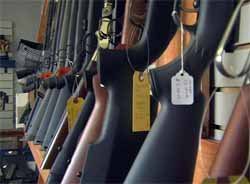 Following a report in the Washington Post about renters at an apartment complex in Castle Rock, Colo. who were told they would not be prohibited to keep any legally owned and purchased firearms in their apartments, the owners have now reversed the ban.
The ban was initially sent out by the property managers at Oakwood Apartments in Castle Rock, who said in a notice to renters last week that there was a new rule in place that banned all "firearms and weapons" from the premises" and residents had until Oct. 1 to comply with the new rules or find another place to live.
A 77 year old Marine Corps veteran, Art Dorsch, who is an avid hunter and possesses a concealed carry permit, was told by managers that he had three options, remove the guns and stay, keep the guns and move or keep the guns and stay until he is forced to leave.
According to Denver's 9News, the property's owners overruled Ross Management, which oversaw the property, late Wednesday, nixing the management's gun ban.
"The apartments in question are public housing and they didn't give the property manager permission to infringe on individual rights," says 9 News.  The Denver Housing Authority now wants to know if Ross management is attempting to slip other gun bans upon other public housing properties the company manages.
The attempted ban is just the latest attack on Second Amendment rights in the state. Earlier this year Democrats, who control both chambers of the state legislature and the governorship, passed a series or gun control laws despite massive opposition from state residents as well as all of the Colorado sheriffs who said the laws were unenforceable and unconstitutional.
Among the laws was a ban on any magazine that carried or could be modified to hold more than 15 rounds. Since every magazine has a removable plate to aid in cleaning and repair, the law applied to every magazine, even those that held less than 15 rounds. Additionally, passing the magazine or handing a firearm to another person including a gunsmith or letting someone simply look at the weapon or magazine is now considered an "illegal transfer" in the state.
The laws, which are the subject of a lawsuit filed by local sheriffs, disabled gun owners and others, are so restrictive that they even shut down an attempt at a gun buyback program because it would have required a background check for every gun purchased by the group doing the program, even though they were going to turn them over to law enforcement.