Politics
Amidst illegal youths coming across border, Cantor wants to cut deal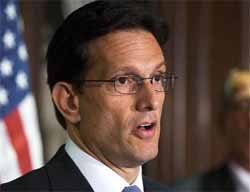 While multiple news reports have reported on a new trend where large numbers of unaccompanied youth are swarming across the U.S. border into Mexico, GOP Majority Leader Eric Cantor is using the issue to call for a compromise immigration deal with President Barack Obama.
During an interview with Virginia VTVR Channel 6, Cantor said he believes the Congress can work with the president on the issue.
"I have told the president, there are some things we can work on together," Cantor said in the WTVR interview.
"We can work on the border security bill together, we can work on something like the kids," a reference to granting amnesty to children who enter the country illegally along with their parents. However, any immigration deal would likely include provisions for the unaccompanied children who enter America to have their parents, who are not currently in the country, to reunite.
The immigration issue is a thorny one, particularly for Republican lawmakers, because on the one hand, groups like the Chamber of Commerce are pressuring lawmakers to provide amnesty for the illegal aliens who have entered the country. However, the rank and file average American is strongly opposed to an amnesty program out of fear it will help depress wages and cost jobs for American citizens. The majority of Republican voters insist that prior to any type of amnesty bill the border be secured to ensure that no more illegals will come into the country and thus necessitate the need for another amnesty bill at a later date.
The same thing happened during Ronald Reagan's presidency where he signed an amnesty bill on the promise that Congress would approve funding for a fence to ensure the amnesty would be a one-time event, but the fence was never built.
Supporters of the amnesty bill argue that the bill approved by the Senate contains border security provisions. However, critics are skeptical that the enforcement provisions would actually occur under this administration, which has shown a habit of passing executive orders to bypass Congress on a host of issues and has refused to enforce laws it disagrees with.
President Obama has said he would veto any border enforcement bill that does not also include a pathway to citizenship for those illegal aliens already here.
Cantor acknowledges the trust issue with the president, who he says must do more to signal the areas he is willing to compromise on to get a bill passed.
"So far, the president has just insisted that it's all or nothing, [it is] my way or the highway. That's not going to happen," Cantor complained.