Investment
60 Plus Ad Claims Freddie, Fannie Overhaul is "Obamacare for Mortgages"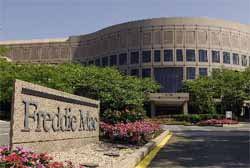 A conservative group is calling bipartisan proposals to overhaul Freddie Mac and Fannie Mae "Obamacare for the mortgage industry" in a new television and radio ad campaign in seven states.The 60 Plus Association campaign targets seven senators for supporting the overhaul, arguing that the move would harm shareholders of the two bailed-out giants. Three Democrat and four Republican senators were named in the campaign. The Republic senators' named are Dean Heller, Mike Crapo, Mark Kirk and Jerry Moran. Democrat senators include Mark Warner, Kay Hagan and Joe Manchin. The proposed plan is backed by President Obama and comes from Senate Banking Committee Chairman Tim Johnson and Ranking Member Crapo. It would wipe out regular shareholders in the two companies. Jim Martin, chairman of 60 Plus, expressed concerns and said that investors in the two mortgage giants include police officers, teachers and retirees, and the plan would wipe away their investment and put it in government hands."First it was Obamacare. Millions of Americans saw their health plans canceled," says one ad against Senator Kay Hagan, a Democrat in North Carolina facing a rough re-election fight. "Now, Kay Hagan is teaming up with Barack Obama to take over the mortgage industry."
After Freddie and Fannie were bailed out in 2008, hedge funds and distressed-equity investors began purchasing shares as many investors dumped stock. They stand to make a huge windfall if the companies are permitted to recapitalize.
More than $188 billion was injected into the two companies by the government to stabilize the giants and the mortgage industry. In 2012, the government began requiring the two send all profits to the Treasury as dividend payments.
The White House supports the new bipartisan legislation unveiled in March that would replace the companies with a new system of federal mortgage insurance.
The 60 Plus ads request that senators not force the legislation but allow investors in Fannie and Freddie the time to recover the investments "that are lawfully theirs."
Supporters of the Johnson-Crapo legislation say that this $1.6 million campaign is a sign that well-off investors are becoming more organized.
"First they bring us an aggrieved Ralph Nader; then a fake grass-roots uprising," said Jim Parrott, a former housing advisor for the Obama administration. "If the political system has a healthy bone left in its body, this increasingly strained campaign won't work."